How Do I create Amazing Equine Art?
---
I paint best when I meet and spend time with the horses I am going to paint.
In addition to having my own beautiful horses… I have discovered some really passionate horse owners and breeders. One of the best secrets that I love to share about my artwork – is that I take every opportunity to visit and study as many high quality horses and ranches as I can.
The owners of the horses always have first right of refusal on my paintings and sculpture before the artwork is sent to shows or to a Gallery. Breeders can contact me at shannon@shannonford.ca to inquire about details.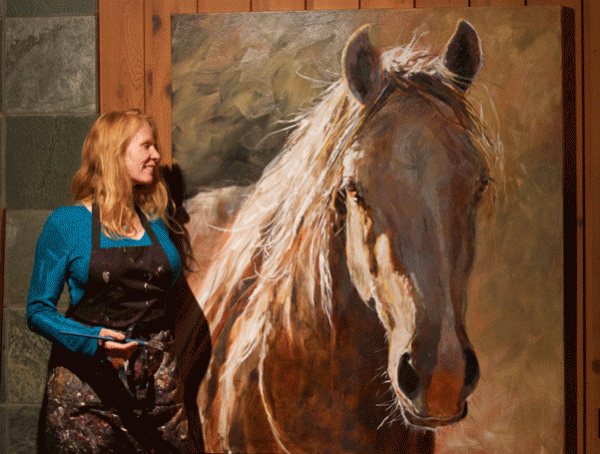 Spending time getting to know the horses I am going to paint or sculpt; I hang around them, interact with them, touch them and observe them in order to get a good "feel" for the essence of the horse I am going to paint. I most often sketch and do quick studies, plus I may take hundreds of reference photos and videos that will serve as a reminder of the moments we shared once I am back in the Studio.
---
To follow are some of the ranches that I have a relationship with. I am so grateful for the opportunity to be able to paint and sculpt such high quality horses from these breeders.
---
---
Okanagan Falls,
British Columbia, Canada
Dr. David Ward DVM of the Fairview Arabian Stud is a world class breeder of the CMK bloodline of Arabian. Fairview Arabians are with breeders around the world, I am so lucky to live almost next door to these high calibre, Exquisite and Athletic Arabians.
---
Lazy T Ranch
Boulder, Montana, USATresa Smith of Montana Mangalarga Marchadors is a foundation breeder of the Marchador in North America. She has personally selected and imported horses from the finest bloodllines in Brazil, and is now breeding "the national horse of Brazil" in Montana, USA.
---
---
Summerland
British Columbia, Canada
The Breeding program of Saddle Rock Meadows Ranch consists of breeding top quality mares to leading performance stallions, producing good minded, conformationally correct horses geared toward athletic movement and great temperaments. Saddle Rock Meadows Quarter Horses are Beautiful!
---
We are not breeders, it seems as though we are collectors…    For the Calgary Stampede 100th Celebration Tail's production, the equine stars had to be found to fit the script. There were three main characters of the show, a Palomino who was to be eventually paired with a Cowboy, an Appaloosa who was to be paired with First Nations and a Bay who was to be paired with a Rancher. Initially the director wanted a black appaloosa with a white blanket, actually it was Bruce who said he thought that the Red Leopard's would be a better fit and more showy. For each of the three (3) colours of horses, I needed to find three (3) similar marked equine stars ranging in
various heights…. (read more).
---
Sandy and Dick Warren are breeders of high quality CMK Arabians. Sandy has been breeding for over 50 years, and is well known for her dedication to the breed and for her contribution to the CMK Arabian in the world.
---
---
---
---
Oliver,
British Columbia, Canada
Specializing in Colour and Excellence in Andalusians,, Lusitanos and Aztekas… and Home of the Double Perlino Andalusian Stallion, Ciro BR.
---
---
Peachland,
British Columbia, Canada
D5 Pine Ranch offers horse boarding, quarter horse sales, friesian and arabo friesian horses for sale, mare care, orphan care and foaling services in the Okanagan.  5 Pine Ranch horse boarding is located  in Peachland,
---
---
Osoyoos,
British Columbia, Canada
Daryl Gibb has been training horses for over 25 years and long ago gained the reputation of being very successful with "problem horses".  Daryl has become well-known for easily accepting each rider and their horse just as they are' and helps the rider find success with their chosen discipline, no matter what it is.
---
---
Oliver,
British Columbia, Canada
We have Mangalarga Marchadors, and an Arabian… I
Click here to see paintings inspired by
the Famous Fairview Arabians
---
"Art is not what you see, but what you make others see." Edgar Degas