Available Paintings Inspired by the Horses of Debrah Opsahl MacDonald & Bruce MacDonald
---
Archive of Collected Paintings Inspired by the horses of Debrah Opsahl MacDonald & Bruce MacDonald
(these paintings are no longer available)
Okotoks, Alberta, Canada

We are not breeders, it seems as though we are collectors…

For the Calgary Stampede 100th Celebration Tail's production, the equine stars had to be found to fit the script. There were three main characters of the show, a Palomino who was to be eventually paired with a Cowboy, an Appaloosa who was to be paired with First Nations and a Bay who was to be paired with a Rancher. Initially the director wanted a black appaloosa with a white blanket, actually it was Bruce who said he thought that the Red Leopard's would be a better fit and more showy. For each of the three (3) colours of horses, I needed to find three (3) similar marked equine stars ranging in
various heightsto represent the progressing story line of each character's life.

So the search began, because it was a Calgary Show, decided to locate Alberta bred horses. I talked with two exceptional trainers that I hold in high regard and in the Appaloosa breeding each recommended colts out of High Sign Nugget at Thunderstruck Ranches. Rocco and Skoocum (half brothers) were the first two horses that I purchased on behalf of the Stampede for the show, they went on to be trained in liberty. The third Red Leopard came from Dale Dodd and coincidently enough his breeding goes back to High Sign Nugget as well, Madison trained him for the bareback and bridle less roles.

 When Stampede made the decision early last spring to sell the horses, I would have bought back every one of the twenty plus horses that we had purchased for the production as in my mind each of them had their own outstanding qualities – loved them all and it was one of my the hardest decisions to make, we ended up with a total of six (6) horses from that production. Madison has one of the Palomino's with her in Texas where she is currently training him as one of her new trick riding horses and he seems to love it, she says he has learned the pattern, becoming comfortable holding her in her tricks and is confidently picking up gears.

We met Shannon thru some very good friends and are thankful that we have had the opportunity to spend the time with her that we have – Shannon is a fellow horse lover who has an exceptional talent. Shannon has captured the "essence" of each our horses that she has painted. As only a horse owner will know, each horse has their own personality and spirit, just like people and Shannon has brought each to life on canvas.
Above is video of Madison MacDonald, who works at Liberty with Horses, as well, she is an Internationally Known Trick Rider.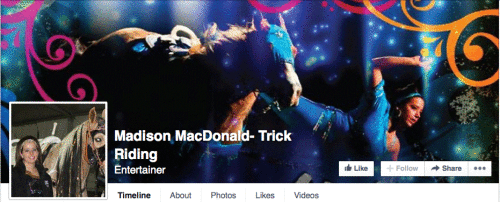 Madison MacDonald's Facebook Page
---