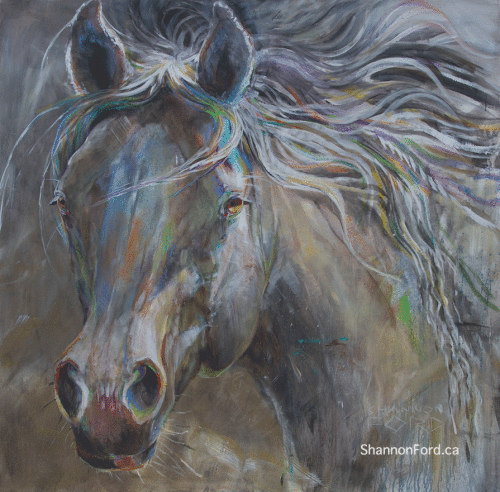 Symphony 2, Commissioned through Mountain Galleries in Whistler BC…
Thank you to the Art Lover who commissioned this portrait, I wish to  Welcome you to my Family of Collectors!  I hope Symphony 2 brings you and your family joy.
Symphony 2 is a 54″ X 54″ portrait of FV Mystique's Jahzara, bred by CMK Arabian Preservation breeder Dr. David Ward of Fairview Arabian Stud, Okanagan Falls BC
To tell you a bit about Jahzara… she is an exquisite Arabian Filly who I met while hanging out with the Arabians of the Fairview Arabian Stud… she quickly become one of my favourite horses to paint.  There is something about Jahzara that I really resonate with and enjoy.
Whenever I am getting to know a horse that I am going to paint, I spend a lot of time observing them… just watching as they go about their day.  It is so fascinating to me to see how each horse responds to different things in their environment and how they respond to me.  There are usually "moments" that we share, maybe eye contact, maybe a certain movement that stay in my mind… that I try to capture in my artwork.
If you have seen my paintings up close, you know how they look representational when viewed from further away, but when viewed up close, they take you on a beautiful journey of abstraction and surface exploration.
I hope you enjoy this sweet photo of FV Mystique's Jahzara!